Battle Pass 2018 untuk TI 8 telah hadir!
Source: Dota 2 / Valve
Battle Pass merupakan fitur dari The International Compendium, yang di mulai sejak 2013, Battle Pass memberikan kesempatan kepada para fans dota 2 untuk mendukung hadiah event turnamen terbesar Dota 2 di seluruh dunia. Sebagai timbal baliknya, pemain bisa mendapatkan skin-skin di dalam game, event-event baru yang di buatkan khusus.
Dan yang paling penting, Battle Pass 2018 akan melalukan hal yang sama untuk hadiah The International 8. Tahun lalu, para fans berhasil meningkatkan total hadiah dari $1.6 juta dollar menjadi $24 juta dollar. Tim Liquid sebagai pemenang di tahun lalu membawa pulang hadiah sebesar $10.8 juta dollar, dan tim lain yang mengikuti event TI 7 juga dari total hadiahnya.
Tetapi untuk semua orang yang tidak dapat hadir di acara TI 8 di Vancouver nanti, ada alasan lain untuk membeli Batte Pass. Karena adanya hadiah-hadiah eksklusif seperti, Courier, Skins, Ward, dan terrains, serta mengeluarkan juga music pack.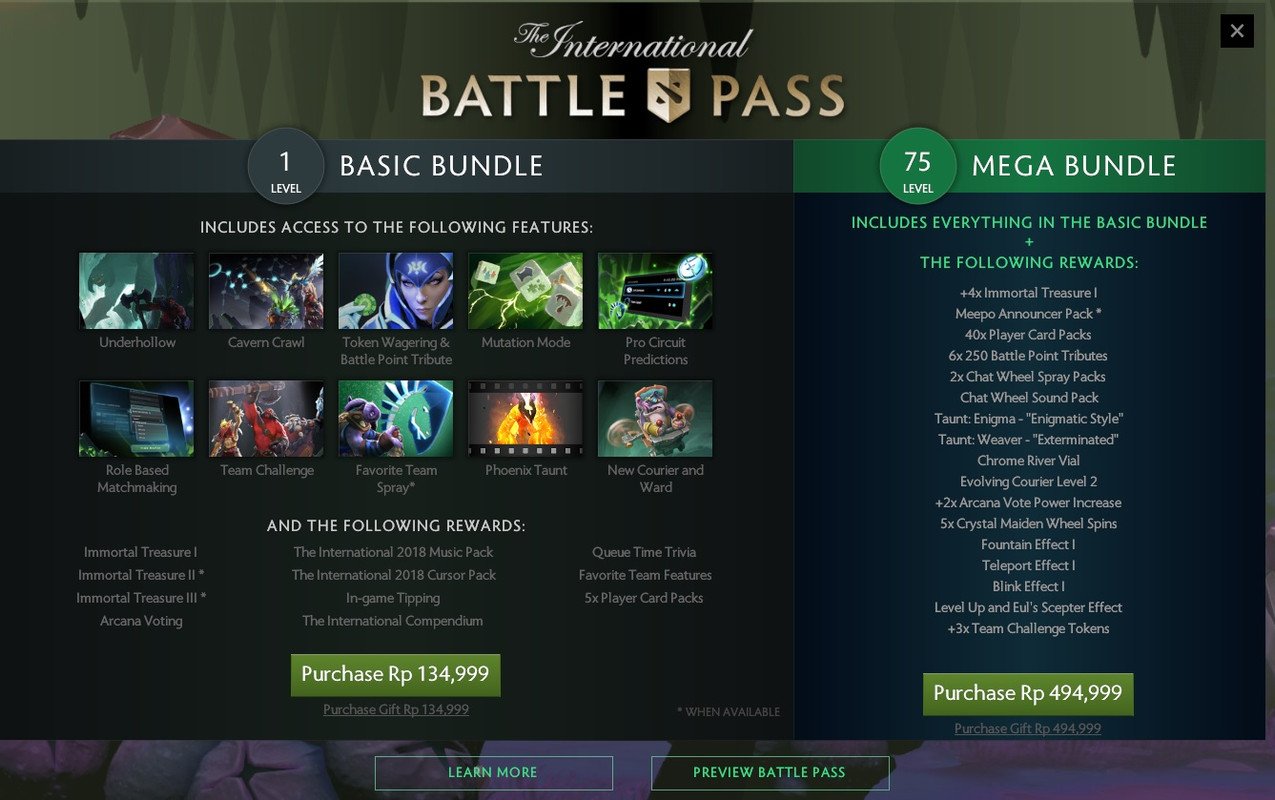 Source: Dota 2 / Valve
Selain dari hadiah-hadiah yang akan di dapatkan ada juga quest serta event yang hanya dapat di nikmati oleh pemilik Battle Pass 2018:
THE UNDERHOLLOW
Mode yang bernama The Underhollow ini adalah salah satu fitur yang di tawarkan oleh Battle Pass 2018. Berdasarkan info yang ada di website resminya, mode ini akan memberikan misi kepada pemain untuk menelusuri labirin dan mengalahkan monster-monster yang menghalanginya. Pemain juga harus memperhatikan area sekitar untuk mendapatkan XP dan tambahan gold. Setelah berhasil mencapai tempat tertentu di Underhollow, di situlah pertempuran sesungguhnya.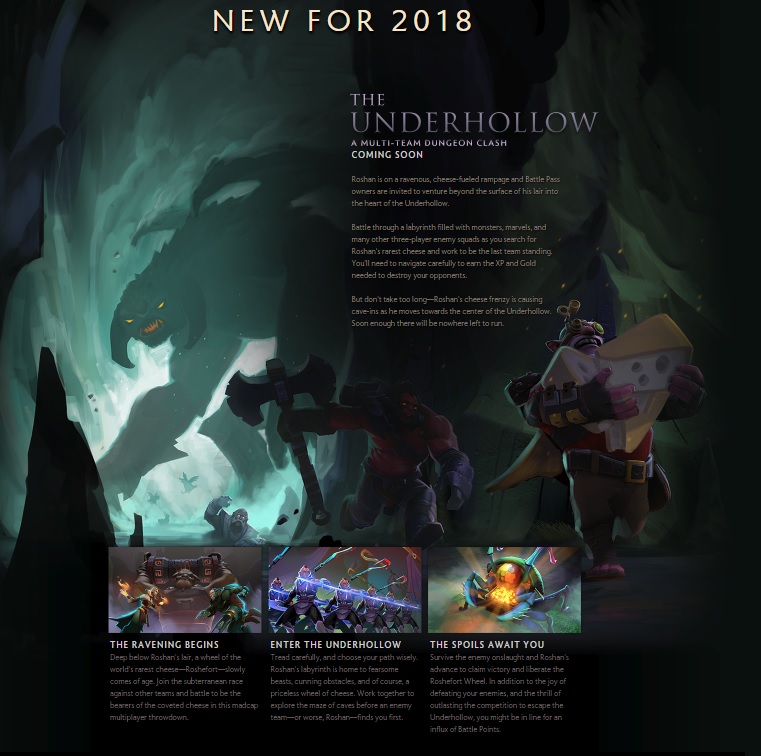 Source: Dota 2 / Valve
CAVERN CRAWL
Cavern Crawl menyarankan kamu untuk menggunakan Hero baru untuk menyelesaikan misinya. Event ini memberikan item eksklusif tetapi juga ada Battle Point yang tersembunyi di dalam mapnya. Tampaknya kamu bisa mencari tahu posisi dari Battle Point ini yang memiliki 350 dan 2000 point, dengan menyelesaikan tantangan di Cavern Crawl. Jadi selesaikan misi sebanyak-banyaknya untuk mendapatkan hadiah-hadiahnya.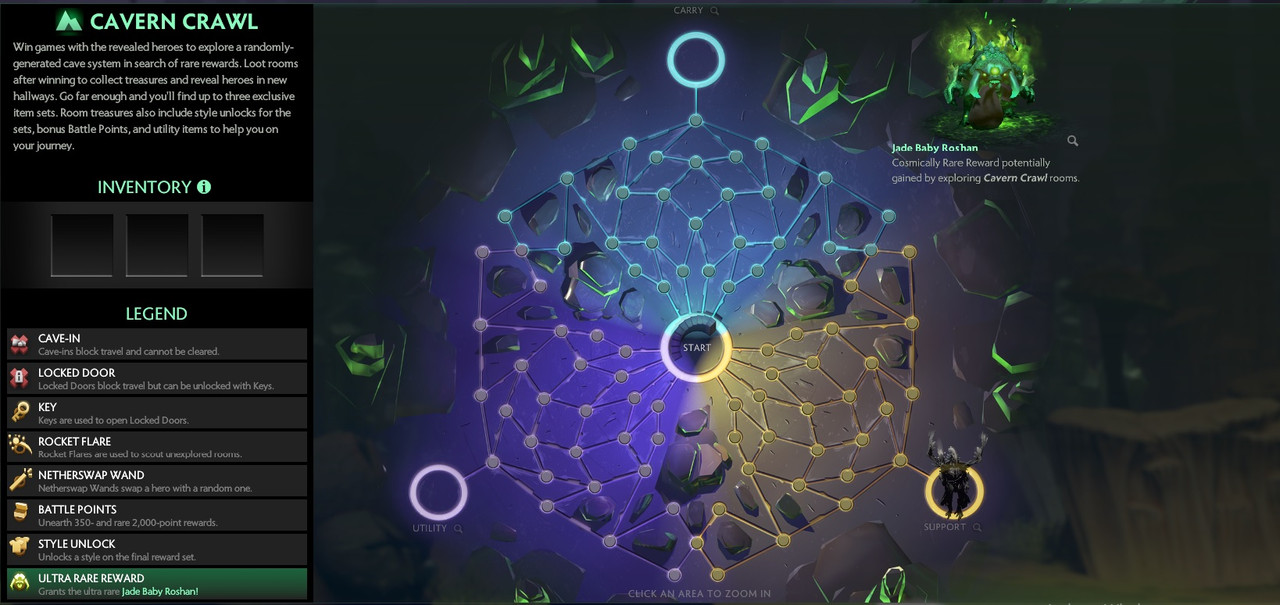 Source: Dota 2 / Valve
Masih banyak fitur-fitur serta rewards yang bisa di dapatkan dari Battle Pass 2018. untuk info lebih lanjut baca disini : Dota 2